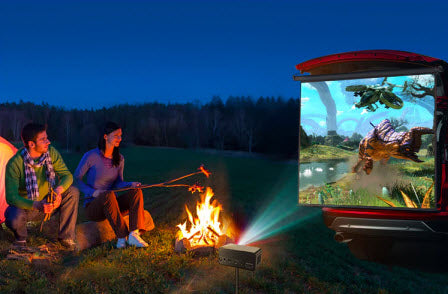 Why Pico Genie Portable Projectors Are Perfect for Camping
Camping is a wonderful way to enjoy a festival or disconnect from the hustle and bustle of everyday life and immerse yourself in nature. While spending time in the great outdoors is rejuvenating, you don't have to sacrifice modern conveniences entirely. Portable projectors, especially the innovative Pico Genie models, can elevate your camping experience by bringing entertainment, convenience, and a touch of magic to your outdoor adventures.
Find out why Pico Genie portable projectors are the perfect companion for your camping trips.
Embrace Outdoor Movie Nights
Transform your campsite into an open-air cinema with a portable projector from Pico Genie. Experience the thrill of watching your favourite movies or shows under a starry sky, surrounded by nature's beauty. These projectors are designed to be compact and lightweight, making them easy to carry and set up wherever you choose to camp.
Portability and Wire-Free Convenience
Pico Genie projectors are specifically engineered for portability. They boast a sleek and lightweight design, making them effortless to transport in your camping gear. With their built-in battery, you can enjoy cordless operation, free from the constraints of power outlets. Simply charge the projector beforehand, and it will accompany you on your camping adventures, delivering hours of entertainment.
Built-In Smart TV Capabilities
One of the standout features of Pico Genie projectors is their built-in Smart TV capabilities. With Wi-Fi connectivity, these projectors allow you to stream your favourite shows and movies directly from popular platforms like Netflix, Amazon Prime Video, and YouTube. This means you can access a vast library of content without the need for additional devices or internet connections, providing you with an all-in-one entertainment solution.
Wide Range of Connectivity Options
Pico Genie projectors offer a variety of connectivity options, allowing you to connect them to different devices effortlessly. Whether you want to project content from your smartphone, tablet, laptop, or gaming console, these projectors have you covered. They feature HDMI, USB, and wireless mirroring capabilities, enabling seamless connections to a range of devices for a truly versatile camping entertainment experience.
Impressive Image Quality
Despite their compact size, Pico Genie projectors deliver impressive image quality. Equipped with advanced LED technology, these projectors produce vibrant colours, sharp details, and excellent contrast, ensuring an immersive visual experience even in outdoor settings. You'll be amazed at the clarity and brightness these projectors offer, allowing you to enjoy your favourite content with stunning visual impact. You can even watch movies in 3D on the Pico Genie Impact 4.0 Plus and convert 2D to 3D  on the M550 Plus 2.0
Built-in Speakers for Immersive Sound
Pico Genie portable projectors are equipped with built-in speakers that deliver surprisingly rich and immersive sound quality. Whether you're watching a movie, enjoying a video, or listening to music, the built-in speakers ensure that you can fully immerse yourself in the audio experience without the need for external speakers. The convenience of having speakers built into the projector enhances the overall camping experience and eliminates the need for carrying additional audio equipment. Alternatively, you can use the Bluetooth feature to connect to an external speaker/headphones if you prefer. 
Overall, don't limit your camping experiences to just the great outdoors. Elevate your evenings under the stars with a portable projector from Pico Genie. Whether you're hosting an outdoor movie night or enjoying a binge-watching session, these projectors offer the perfect blend of portability, convenience, and high-quality visuals. Embrace the magic of outdoor entertainment and make lasting memories with Pico Genie portable projectors as your trusted camping companion.